-From private photography lessons to cource in Spain
Roosa is an occupational therapist by profession, but she had photography as a hobby for some time. Roosa was given a private photography lesson as a Christmas present from her partner and after that decided to commit to the lessons for a year.
We meet online for 1.5 hours at a time. It actually works much better than if the lessons were live, because we both look at the photos on our own screens.
As the lessons progressed, Roosa understood the reasons why she wasn't completely happy with her photos. By focusing on her needs, Roosa quickly gained the tools to better achieve what she wanted in her images. She began to understand more about composition, depth of field, the message of the image, personal control, the nature of light and how to see it. Roosa used to spend a lot of time in Lightroom, making adjustments here and there. Our goal is to make the image so finished at the time of shooting that there is very little time for post-production. It's a very fast process.
In June 2023 I organised a photography course in Spain. Due to late marketing, it became a private course for the lucky Roosa.
We met live for the first time at Alicante airport, from where we travelled to my home in Guardamar del Segura, a small village next to Torrevieja.

During the week we shot on a sandy beach, a rocky beach, a garden and in three different towns. Roosa photographed and I consulted. Thanks to my friends in Spain, we always had enthusiastic models and helpers along the way. Sometimes we did things on our own so that I could photograph Roosa. Roosa also got a lot of great photos of herself.

In the evenings we ate pizza and talked about life and of course photography from all angles. When we weren't dancing or admiring the stars on the beach after sunset. I had found out beforehand that Roosa liked to dance, so I arranged two private lessons for her to learn salsa and bachata.
As we had already covered a lot of the basics in the distance, Roosa also wanted to learn about my favourite subject, combining flash and natural light while taking pictures. If you want to stand out as a photographer, this technique makes it possible. Now that even mobile phones can take absolutely stunning point-and-shoot pictures, this technique, when used skilfully, allows you to take your images to the next level. The combination of flash and natural light opens up many more possibilities for expression than is possible with natural light alone.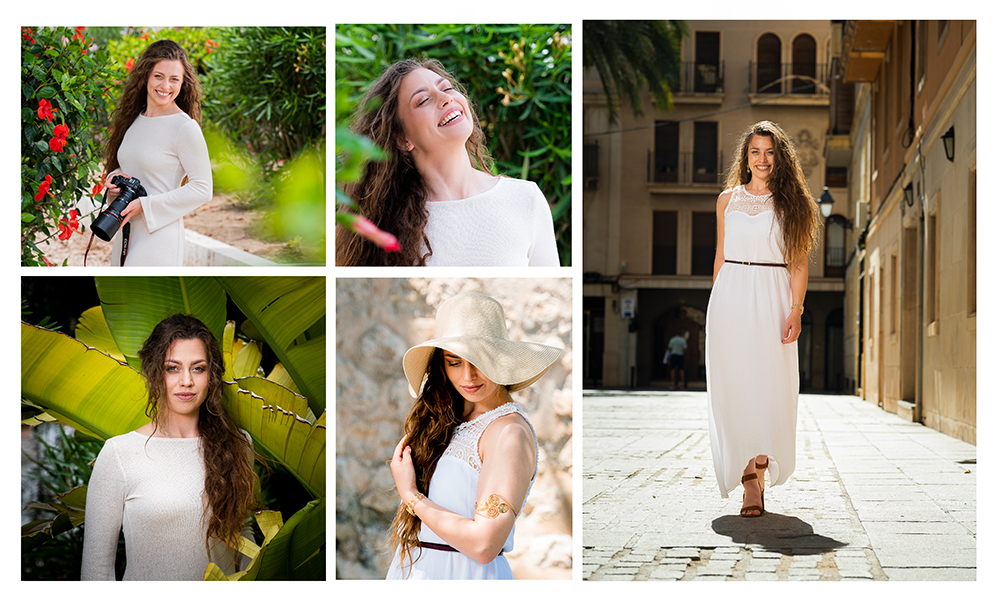 As the weather was right, we decided not to spend any time in Spain processing the images. We could look at them later in the teleclasses. On the last evening, however, we decided to have a quick look. Six hours passed anyway. "You have such funny comments, even I can concentrate for that long," said Roosa.
"The course was 6/5 I'll come back for the next one" was Roosa's feedback. Thank you.
I am happy to say that we have also become good friends.
-Liisa